Audio guide system tour, video files, text, pictures, etc. are stored in the terminal playback device by the electronic tour guide in the scenic spot, and then a number of wireless signal transmitters covering the attractions, booths to activate the tour guide device into the area.The navigation machine entering the area will automatically play the corresponding content after receiving the trigger signal from the area.Hefei Humantek Co.,Ltd. is a leading manufacturer of audio guide system tour in China, established in 2007.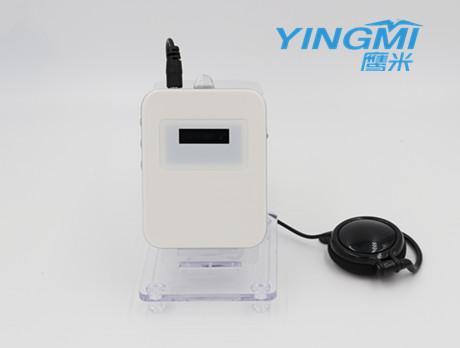 The receiving and playing device of the visitor is searched by the transmitting signal of the transmitter and receives the signal instruction of the transmitter after it is turned on.And follow the instructions to play the interpretation recording of the area.The navigation machine is constantly scanned by the transmitter in the process of moving.The transmitter USES area-recognition technology to determine where viewers are and decide


Our products can be widely used in Scenic spot, museums, companies , factories, government agencies and technology center. The audio guide system tour passed ISO9001:2000 ,CE and Rohs .
The team audio guide system tour is suitable for the group travel, company visit.
The speaker can speak by transmitter , the visitor can listen can receiver. It providing high-quality tour services, it overcomes the noise pollution and confusion caused by the previous use of loudspeakers and visits a clear, quiet and comfortable environment.